Microsoft Azure is the Microsoft cloud computing platform and infrastructure for deploying, managing and building applications in a global network of data centers.
Move to the cloud with confidence

Azure is built on the same technologies that you (and millions of others) already trust: Windows Server, SQL Server, Active Directory, Hyper-V, and more. This means a consistent, familiar, and stable environment. Move your virtual machines between on-premises and the cloud as often as your business needs dictate—no conversion needed. Help protect your business critical applications with managed cloud backups and Disaster Recovery as a service built in. For applications spanning on-premises and Azure, take advantage of ExpressRoute for a private, fast, and reliable connection.
Simplify complex environments
You don't need to be an expert on configuring, deploying, and maintaining your business applications—because we're here to help. Choose from a growing number of pre-packaged templates to get started immediately. These templates are based on tried and tested configurations, and help you easily set up complex environments for applications, including Dynamics NAV and SharePoint.
---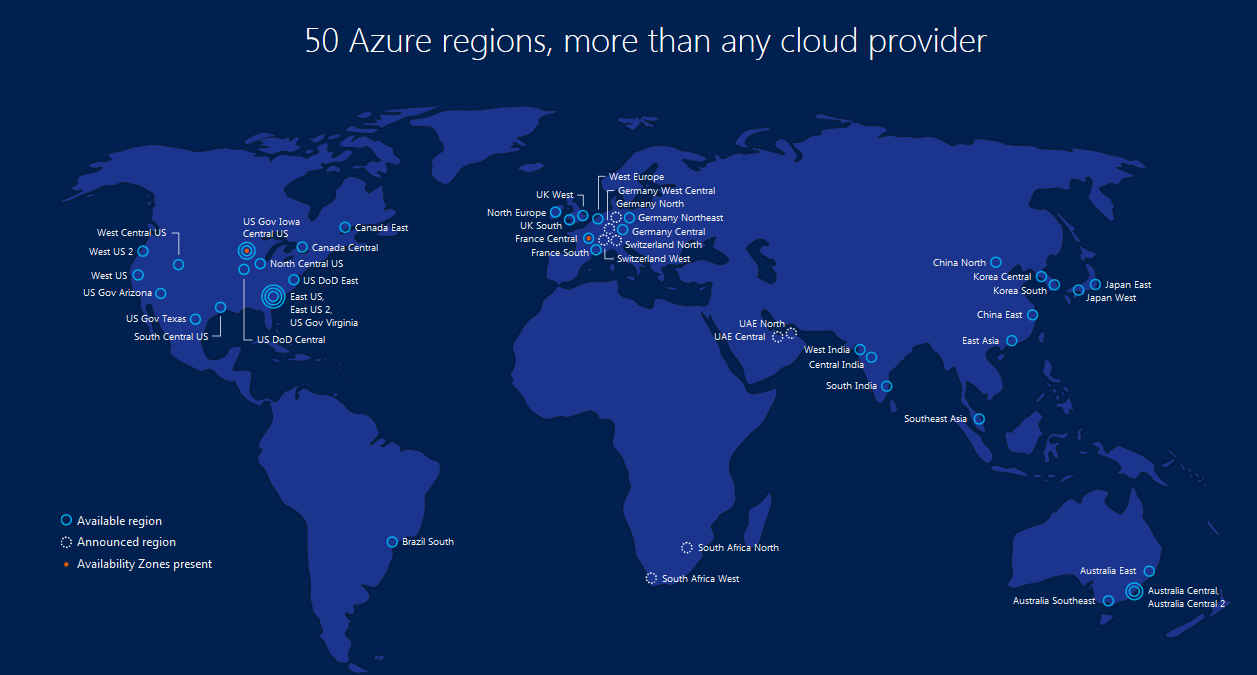 ---
Here are some common reasons organizations are turning to Azure Cloud:
Cost: Cloud computing eliminates the capital expense of buying hardware and software and setting up and running on-site datacenters - the racks of servers, the round-the-clock electricity for power and cooling, the IT experts for managing the infrastructure. It adds up fast.
Productivity: On-site datacenters typically require a lot of "racking and stacking" - hardware set up, software patching, and other time-consuming IT management chores. Cloud computing removes the need for many of these tasks, so IT teams can spend time on achieving more important business goals.
Speed: Most cloud computing services are provided self service and on demand, so even vast amounts of computing resources can be provisioned in minutes, typically with just a few mouse clicks, giving businesses a lot of flexibility and taking the pressure off capacity planning.
Performance: The biggest cloud computing services such as Azure run on a worldwide network of secure datacenters, which are regularly upgraded to the latest generation of fast and efficient computing hardware. This offers several benefits over a single corporate datacenter, including reduced network latency for applications and greater economies of scale.
Global scale: The benefits of cloud computing services include the ability to scale elastically. In cloud speak, that means delivering the right amount of IT resources. For example, more or less computing power, storage, bandwidth - right when it's needed, and from the right geographic location.
Security: Azure offers a broad set of policies, technologies, and controls that strengthen your security posture overall, helping protect your data, apps, and infrastructure from potential threats.
---
Azure is the cloud you can trust

Ninety percent of Fortune 500 companies trust the Microsoft Cloud. Join them. Take advantage of Microsoft security, privacy, transparency, and the most compliance coverage of any cloud provider.
Achieve global scale on a worldwide network of Microsoft-managed datacenters across 50 announced regions.
Detect and mitigate threats with a central view of all your Azure resources through Azure Security Center.
Rely on the cloud with the most comprehensive compliance coverage (70+ compliance offerings), and recognized as the most trusted cloud for U.S. government institutions.
---