Microsoft Power BI – Analytics solutions for your whole organization
Power BI is a suite of business analytics tools that delivers insights throughout your organization. Connect to hundreds of data sources, simplify data prep, and drive ad hoc analysis. Produce beautiful reports, then publish them for your organization to consume on the web and across mobile devices. Everyone can create personalized dashboards with a unique, 360-degree view of their business, and scale across the enterprise, with governance and security built-in.
Power BI transforms your company's data into rich visuals for you to collect and organize so you can focus on what matters to you.
Integrated with Microsoft Dynamics 365 Business Central & Dynamics NAV.

Your whole business on one dashboard – With Power BI on the web, monitor your important data from across your organization and from all of the apps you rely on.
Create stunning interactive reports – Power BI Desktop gives you tools to transform, analyze, and visualize data. Share reports in seconds with your organization using Power BI on the web.
Consistent analysis across your organization – With SQL Server Analysis Services you can easily build robust, reusable models over your data to provide consistency across reporting and analysis in your organization.
Easily embed BI and analytics in your app – Deliver stunning interactive reports in your app with the Power BI Embedded service.
---
Power BI Services – Request For Quote
---
Microsoft Power BI combines an intuitive user experience with intelligent data visualizations and allows organizations to transform, shape and merge their data – from multiple systems or data sources – into compelling and interactive reports to provide greater depth of data insight. By leveraging Power BI businesses can:
Have a unified view of all business data imported from any source online or on-premises, with a library of over 500+ connectors.

Analyze and visualize data through interactive reports and dashboards that can be drilled down into securely access reports from any location on any device.

Streamline collaboration and easily share information across the organization within Microsoft productivity tools like Teams and SharePoint.

Make informed data-driven business decisions with confidence.
Ready to maximize the value of your technology investments and turn your data into meaningful insights that impact your bottom line? Reach out to us today for a consultation or demo of Power BI's capabilities.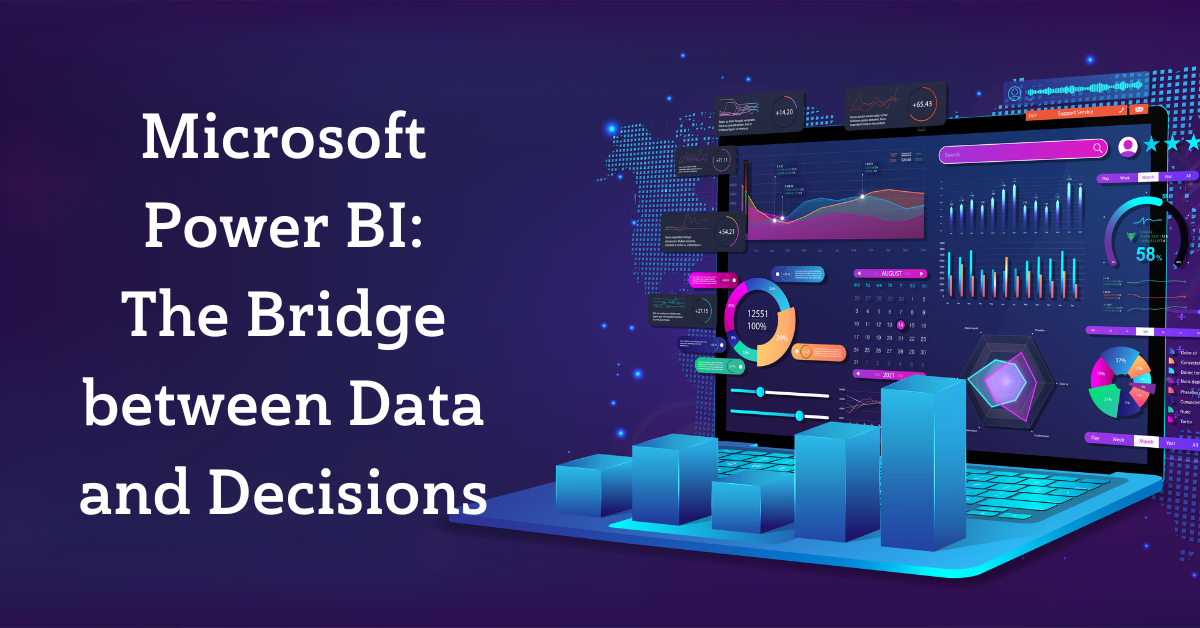 ---
Bring details to life
Power BI makes you a master storyteller with stunning visualizations and interactive dashboards that offer a consolidated live view of your business. For the analyst at heart, Power BI Desktop provides a free-form canvas for drag-and-drop data exploration as well as an extensive library of interactive visualizations, simple report creation, and fast publishing to the Power BI service.
---
---
---
---
---
---
---
---
---
---
---
---
---
---
---
---
---
---
---
---
---
---
---
---
Power BI is a suite of business analytics tools to analyze data and share insights.
Monitor your business and get answers quickly with rich dashboards available on every device.

Find clarity when you need it most. Empower team members to discover insights hidden in your data with Microsoft Power BI.

Microsoft is investing heavily to create a rich experience within your collaboration platform infused with AI to drive insights everywhere.

Delivering a business intelligence platform optimized to meet the unique needs of organizations that strive to make increasingly large, complex volumes of data available for analysis.

Power BI app for Teams makes data more accessible across your organization. It helps everyone seamlessly include data in chats, meetings, calendar invites and teams channels. By making data more accessible, organizations can easily bring teams together, have insights-based discussions at the point of collaboration, and make better decisions faster.

Easily connect to, model, and visualize your data, creating memorable reports personalized with your KPIs and brand. Get fast, AI-powered answers to your business questions—even when asking with conversational language.

Gain insight from your largest BI deployments – Make the most of your big data investments by connecting to all your data sources with the scale to analyze, share, and promote insights across your organization while maintaining data accuracy, consistency, and security.

Make decisions with confidence – Work together easily on the same data, collaborate on reports, and share insights across popular Microsoft Office applications such as Microsoft Teams and Excel—empowering everyone in your organization to quickly make data-driven decisions that drive strategic actions.

End-to-end data protection – Better protect your data across Power BI reports, dashboards, and data sets with persistent protection that keeps working even when shared outside your organization or exported to other formats such as Excel, PowerPoint, and PDF.

When you use Power BI with Azure and Office, you extract maximum value from your technology and your data. Because Power BI interoperates with the Microsoft technology you already trust, you can use all your data productively.

Extensive data connectors – With a growing library of 500+ free connectors, everyone gets a complete picture for data-driven decision making. Connect directly to hundreds of on-premises and cloud data sources such as Dynamics 365, Azure SQL Database, Salesforce, Excel, and SharePoint.
---
---
---
---
---